Delos Archaeological Museum
Delos Museum erected at 1904 with the expense of the Athens Archaeological Society. The original building included the five western classrooms, plus several more in 1931 and 1972. In the same period have been huge, but unfortunate, changes in the appearance of the building.
The present report contains nine galleries: in six of them out the sculptures and reliefs found on Delos, one of the best collections in the world. Two classrooms to include prehistoric pottery and ysteroellinistikon years and another out various miniature found in the private homes of Delos. The report is not yet complete.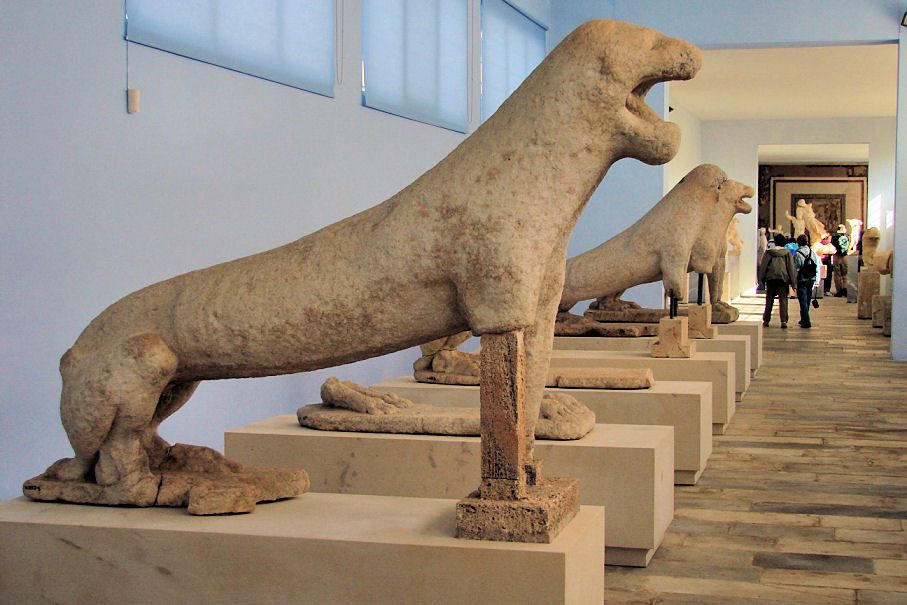 Exhibits include:
Epitymvia statues and columns of the 7 th – 1 st century BC
Vases of instruments of the 3 rd millennium – 1 st century BC
Idols 2 nd – 1 st century BC
Jewelry and small items of 2 nd – 1 st century BC
Mosaics of 2 nd – 1 st century BC
Key exhibits: plate with ivory relief of Mykinaiou warrior that was found in Artemision torso Kouros from the temple of Apollo, marble cluster Vorrea which snaps the princess of Attica Oreithyia and was the temple of Athens, statues Dioskouridi and his wife, Cleopatra — Athenians living in Delos – found at the home of the couple, in the area of theatre, statue of Apollo in the press of the Lyceum of Praxitelous Apollo – the god based in the trunk of a tree and clicks on Gallic shields – from the area of theatre, bronze facade bearded Dionysus who diadima bodies and ivy wreath and found south of the Market Kompetaliaston, Corinthian alabaster – a vase for perfumed oil with a Potnias Thiron between two swans – found in Iraio, headed triangular pedestal Kouros statue – with relief head crushed in a corner gorgoneia and the other two – from the Temple of Apollo, Archaic daughter – veil zosmeno bodies in the middle, which is decorated in the middle of the front with vertical film debossed double meandros – found from the Temple of Apollo and is considered one of the oldest existing large plastic, fresco from the outside wall of a house in the area where Skardana represented by Hercules, and two pygmachoi male form plays flute or trumpet.
Tel 22890 to 22259, at the archaeological site of Delos.
Tickets
Intact: € 5, Concessions: € 3
Free Entry Calendar Schedule
– March 6 – Memory Melina Mercouri
– June 5 – World Environment Day
– April 18 – International Day of Monuments
– May 18 – International Museum Day
– The last weekend of September, each year (Thursday Cultural Heritage)
– Sundays during the period from November 1 to March 31
– The official non-working State days
– The first Sunday of each month, except during the months of July, August and September (when the first Sunday is a holiday, the day of entry determines the second Sunday.)
– September 27, World Tourism Day
– Persons eligible for «free-pass» validate for three years, with the right of renewal.
Persons entitled to a lower entrance fee
– The participants in international conferences following approval by the Director General of Antiquities and Civic Heritage
– Participants in the tours organized by the Agency Workers'
– Sessions parents in educational visits schools Primary Education
– Senior citizens, members of the European Union who are older than 65, by showing identity card or passport
– Students outside the EU
Persons entitled to Free Entrance
– Journalists with an identity card ESIEA
– Holders bulletin-free entry
– Holders specific identity-State ICOM – ICOMOS
– Members, companies and associations of Friends of Museums and Archaeological Sites in Greece demonstrate endorsed membership card
– Members of KAPI by showing the Culture Card
– Schoolchildren to 19 years accompanied by educational workers oriented A, B and C oriented education (Collective licenses granted by the Greek Ministry of Culture)
– Members of the Greek Parliament
– Young people up to age 19 years old by showing their ID card
– Tourist guides with an identity card of the Ministry of Development
– The official guests from the Greek state, after approval of the Director-General of Antiquities and Heritage
– Blind escorts and persons with disabilities.
– The ones serving in the armed forces by showing ID card
– Preservers of antiquities and works of art that have been given specific permission from the Greek Ministry of Culture
– Officials of the Hellenic Cultural (O.P.E.P.), on production of their identity
– Officials of the Archaeological Resources and Fund (ARF), on production of their identity
– Officials of Credit Management Fund for Archaeological Projects (T.D.P.E.A.E.), on production of their identity
– Officials of the Ministry of Culture, through the demonstration of their identity
– Students of Higher Education, TEI Or equivalent schools EU countries By showing the student identity
Operating Hours
Winter Season:
From 01.11.2007 to 31.03.2008
08:30-15:00
One shift
Summer Season:

Monday closed
Tuesday – Sunday: 08:30 – 15:00
Source: Municipality of Mykonos