• More than 20 years of experience
Company's Profile
Our marine tourism business set off its activities in the early 90's, with the formation by Mr. Dimitris Zafeiropoulos of the WaterAction Sports School, based at Agrari Beach, Mykonos. Mr. Zafeiropoulos is the Founder and the Owner of Mykonos Yachting. Certified as a Water Sports' Trainer, he was involved in the water sports and the diving field for many years. During this period he charted small vessels to those eager to know the wild and unknown beauty of Mykonos Island. As a skipper, he was the one to introduce the yet to be discovered Mykonos to many visitors of the island. The feedback he received providing this service was enthusiasm and excitement. This gave him the motivate power to design and build a yacht that could host more guests.
So the build of Glassbottom Discovery, a yacht with 10 square meters of glass at the bottom of her salon was a fact. Glassbottom Discovery is a unique one, that not only she can host up to 80 people, but she is also built according to the standards and the comfort that a yacht can provide. Furthermore, she is a yacht that can cruise close to the shore so that everyone on board can admire the surrounding view and the unspeakable treasures of the coasts of Mykonos and the nearby Cycladic islands.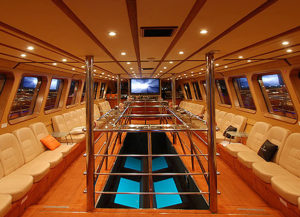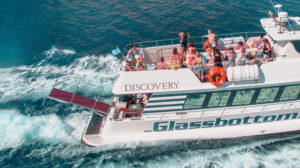 Comments
comments