Mykonos has always been renowned as an LGBTQ-friendly hot spot
Perhaps it is the longtime symbiosis with Delos, historically tolerant of alternative lifestyles, or just a devil may care attitude of the locals, Mykonos has always been a live and let live kind of place. A stylish and trendy island that let's everybody be the best version of themselves. All shops, hotels and restaurants on the island are gay friendly. There are however some great places for drinks that are magnets for LGBTQ clients.
Bars, Clubs that cater to LGBTQ
There are a handful of bars and clubs that cater to LGBTQ and of course they rank among the island's best. From the moment you walk through the doors you are guaranteed to have a great time. So, which are these fabulous venues
Montparnasse – The Piano Bar
www.thepianobar.com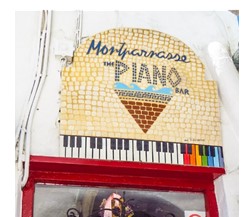 In Little Venice, Montparnasse has been serving great entertainment and cocktails for more than three decades. Its reputation has gone "global" with mentions in the most famous international LGBTQ travel guides. The beautiful sunsets and its musical evenings are always the common bond that brings people together. Live Piano nd vocal performances take place from 10 pm to 2 am every night. Jody and Niko are always at the ready with their insightful humor!
montparnasse@thepianobar.com, +30 2289023719
LOLA BAR
www.lola.com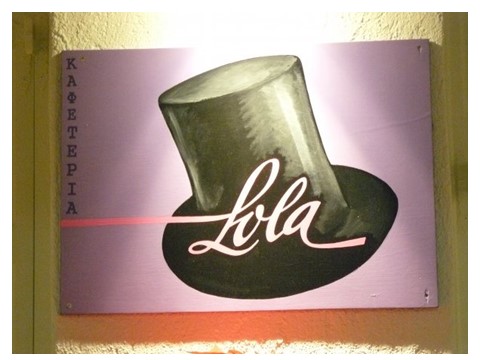 In the heart of Mykonos-Barkia/Limni, Lola Bar has a wonderful, buzzy atmosphere with laid back lounge music and fabulous cocktails. Its elegant style makes it unique and different from anything else you will see on the island. Lola Bar offers excellent personal service and makes everybody agree in one thing: once you've visited Lola you'll want to come back again and again. Dimitri and Giles are fantastic hosts that make each customer feel special.
+30 2289078391
Jackie O'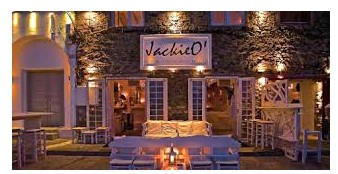 Located the old harbor of Mykonos, just below the famous church of Paraportiani, Jackie O' beckons visitors to enjoy a purely hedonistic experience. With the motto 'From sunset to sunrise in style', the bar's staff will offer you sunset cocktails, evening drinks and shots to make you dance the night away to all the latest music hits. Join this colorful crowd Priscilla's impressive drag shows and lots of fun.
+30 2289077168
Jackie O' Beach Club and Restaurant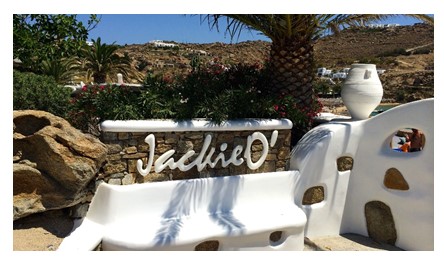 Enter a very special universe surrounded by large rocks and a sandy bay at Super Paradise Beach. With a 150 seat restaurant, large open bar, pool, jacuzzi and private lounge areas, its own church for ceremonies, Jackie O' Beach Club is a hot meeting point on the island. High quality, excellent service and magnificent views are the standard here.
+30 2289077298
Babylon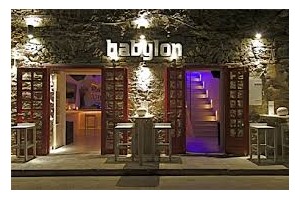 NearParaportiani church, music styles range from house, techno, progressive, acid jazz and ambient. Babylon features nightly drag shows and hosts many summertime theme parties, in one of the town's most picturesque corners with seating area outside on the pier.
+30 2289025152
Porta Bar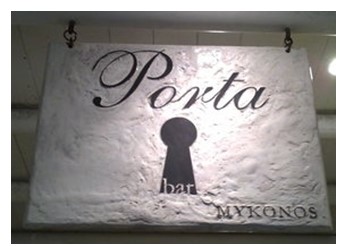 Sandwiched in a narrow alleyway between Nikos Taverna and the waterfront is Porta Bar. Always a great party there that keeps the smiles coming.
@54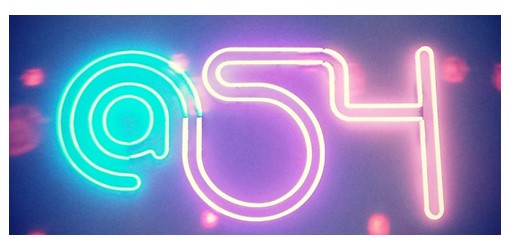 Feel disco heat @54 with exclusive weekly parties full of the sexiest & most glamorous jet setting crowd and pumpin' jamz to boot! Try one of our deliciously mixed @54 cocktails and enjoy the gorgeous view from our fabulous terrace during the day, see the stunning sun set while sipping champagne then step inside the club and surround yourself in the sleek & modern sophistication of the chic décor and our stunningly hot bar staff!
XLSIOR Festival
http://www.xlsiorfestival.com/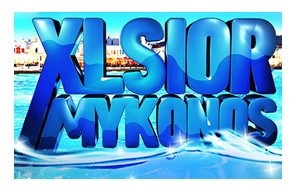 And of course, annually there is the XLSIOR Festival, held at the end of August. http://www.xlsiorfestival.com/one of the most exclusive international Summer Gay Festivals in the world. Launched in 2009, to become a getaway vacation that combines fun, luxury and most importantly a friendly atmosphere that knows no boundaries. Hosting some of the major Artists in the Gay Circuit scene, XLSIOR brings you the "crème de la crème" of the Gay world. Marking an unforgettable experience with the careful selection of its open air and outdoor breathtaking venues. Where FUN has a new meaning.
Comments
comments