Mykonos Boat Rentals
DAY TRIP
from 11:00am – 15:00pm
• This trip will give you the opportunity to visit the south cost part of the island with the most famous beaches, but not only that. The coastline is full of small private beaches.
• Feel free to ask the driver to stop wherever you want to explore, snorkel or sunbathe, you can even try your skills in fishing.
SUNSET TRIP
from 16:30pm – 20:30pm
• At first our skipper will drive you to the south cost part of the island. You will explore the wonderful coastline with the private beaches, stop for swimming in the most clear blue-green waters and even enjoy the experience of fishing.
• Away from the civilization you and your partner in the middle of the aegean sea you will have the most amazing experience, to watch the sunset from the boat enjoying your wine.
DELOS – RHENIA TRIP
from 11:00am – 15:00pm
• In only 20min we will reach at first the island of Delosor else "the island of the immortals".
• In this trip you have the option either to stay on board, sunbathe and enjoy a drink or disembark for 2 hour tour on the island.
• After Delos we will visit Rhenia for a swim. This island has the most beautiful beaches with exceptionally clear and clean waters.
• RATE:
• Season 2018 May – September: 350€
•
• * Includes: Fuel, bottle of wine, beers, sandwiches, fruits, fishing equipment
• and waterproof action camera upon request.
•
• THE BOAT:
• • Rib: Nautica Led 540
• Capacity: from 2 to 7 people
• Lenght: 5,40 meters / 18 feet
• Engine: 100hp Yamaha four stroke
-15% Offer !!!
ASSOS BOATS
• The Assos boat is a perfect choice for people with no experience in driving a boat.
Εasy to handle, stable and flexible on the water is the best choice for couples and families.
• 4.50 metres long is equipped with a 20hp engine and maximum capacity of 5 people.
• No license is required to rent this boat.
• Free training is provided before rental.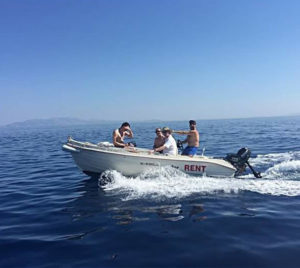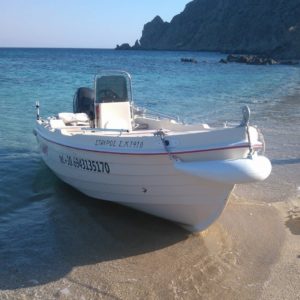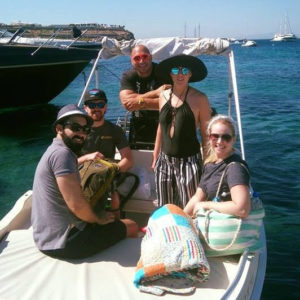 Comments
comments