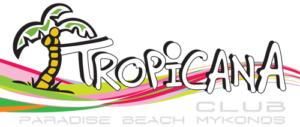 Beach Bar
Welcome to one of the most Sexiest Beach Bar in the world according to the Travel Channel in 2012. The Tropicana Club Mykonos and the Beach Bar, excelled also in 2009 and 2011 as one of the ΗΟΤ Βeach bar.
At Paradise Beach fun is off the charts as one of the HOT SPOTS of Mykonos. The natural beauty of Paradise Beach in conjunction with the rousing SEXY BEATS of the DJ'S create a unique atmosphere.
Rhythm, music, flirting, bodies swaying sensually create a special atmosphere you want to enjoy and squeeze until the last drop.
The sea and the sun are energizing. After 4:30 pm the music takes its place as the DJ gives the signal and all together, a great company that is celebrating until late at night. Sensuous dance, dancers, happenings, speaker man, sexy swimwear, relaxed mood, plenty of drinks and hot atmosphere create a unique Beach Party. The sense of freedom of the open beach bar by the sea is a unique entertainment experience on Mykonos that many of our friends travel to the most distant parts of the earth to live.
At Tropicana Beach Bar we provide umbrellas, deck chairs and appropriate facilities to enjoy the blue waters of Mykonos. Cool drinks, revitalizing juices and creative cocktails and a wide selection of coffees complement your relaxing moments on the beach.
Comments
comments