CINE MANTO MYKONOS OPEN AIR CINEMA
ONCE-IN-A-LIFETIME EXPERIENCE
Every night, the cinema opens its gates with two movies back to back, so one could grab a meal at the restaurant and be just in time for the beginning of the preview. You can enjoy the best movies, first worldwide released films & box-office productions for adults and children, starting on June 1st up until September 30th. After wandering around and sightseeing the Island, to watch a movie under the bright stars of the Greek summer sky is definitely the perfect way to end a day, and -in any case- a once in-a-lifetime experience. The films are all in original version with Greek subtitles.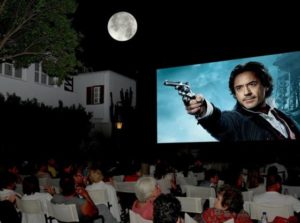 A MYSTIC SHELTER
CINE MANTO is a unique and vast garden located in the center of town of Mykonos, open to the public, drowned by palm trees, towering pines and unique species of cactus. Sheltered from the wind and always cool, is an unexpected picture of Mykonos. Within these majestic garden there are: an open-air-cinema "Cine Manto" and the coolest cafe-restaurant of the island "Cine Manto Restaurant".
With much more to offer than just another screening, one will be amazed when discovering this little piece of paradise. Cine Manto Mykonos acts as a shelter from the sometimes bustled and energetic lifestyle of Mykonos. If one prefers something other than clubbing, shopping, strolling around or you want to relax, Cine Manto Mykonos is your go-to place; an unexpected picture that serves as scenery for an unusual experience.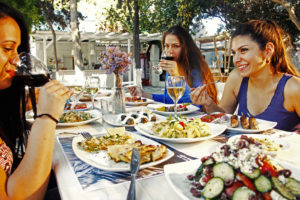 A SMALL PIECE OF HEAVEN
Apart from the open air cinema, in the Garden you will find the coolest cafe restaurant on the island, CINE MANTO CAFE RESTAURANT, surrounded by a beautiful garden with aethereal atmosphere, and great food. It is open all day long, offering the pleasure of greenery, Greek breakfast, barbecue, drinks, brunch and assortments. If you pass at midday you will be astounded by the atmosphere created from the dreamy fountains and the summer breeze that weaves through the trees.
Cine Manto – Cafe Restaurant consists the perfect location for business gatherings or informal meetings. The whole establishment can host up to 200 seated people.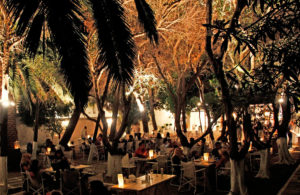 Enjoy your dinner watching your favorite movie.
Center of town of Mykonos
Open 10:00am – 2:00am
Free Wi Fi
Comments
comments