Mykonos Petros the Pelican,is the official mascot of Mykonos
You will spot him where you least expect, within the narrow walkways of the islands' labyrinth, with dozens of folks gathered around trying to take selfies or just get a shot of him. Leonardo de Caprio-NOT. Mykonos has its own celebrity—a friendly feathered pelican with a snapping yellow beak that comes before everything else.
Mykonos' "big bird" has benefited from celebrity status since the late 50s. The injured bird was discovered on the shores of Mykonos by a local fisherman. He rescued the bird and nursed him back to health. With the support and benevolence of locals he became a fixture on the waterfront, always around when fishermen brought the mornings catch, so he could enjoy any "surplus." Petros, as he was eventually named,
is the official mascot of Mykonos. Petros has always been a bit of an enigma as his species of pelican is not indigenous to the island or even the Aegean.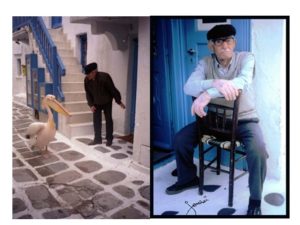 (Barba Antonis Haritopoulos, the fisherman who rescued Petros)
He has greeted queens and celebrities who have visited the island and was even presented with a gift from Jackie Kennedy Onasis—a female pelican to keep him company.
Greeks were generally not inclined to keeping animals as pets. However, their adoration for Petros was undeniable. One fine morning, the still young and restless bird decided to fly and visit the nearby island of Tinos. The residents there considered the visit as voluntary migration and decided to keep
him. Petros' alleged entrapment in Tinos was the first (and last) court case in Greece where the custody of a bird was disputed, the avian equivalent of the abduction of Helen of Troy. When the authorities decided in their favor and the captive pelican was returned to them, the Mykonians threw a welcome party with music, dancing and a public feast. Even the solemn Orthodox and Catholic priests(both denominations are present on the island) literally chimed in,festively ringing the bells of all the churches in town.
In the mid 1980s, the original Petros was fatally struck by a car on the waterfront. As the original bird had such popularity and seemed to have developed into the Mykonian Mascot, he was posthumously replaced. Since then there is always a pelican on Mykonos who, honorifically, was given the name Petros.Mykonos Petros the Pelican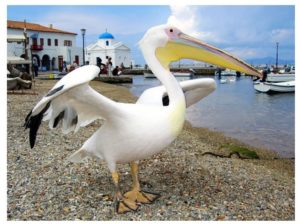 Petros managed to rise to such mythical status, reaching a point where he effectively overshadowed many of the impressive local symbols, such as the marble lions of Delos and the whitewashed, stone-carved churches. At one stage, he almost competed in worldwide recognition with the perennial landmarks of the island, the famous windmills. By charming locals and tourists alike – posing patiently for a "click" alongside kings, hippies and jetsetters – the tirel ess and docile bird was soon promoted to island mascot. Pictures, sketches and portraits of him by local artists made their way onto postcards, t-shirts, coffee mugs, cigarette lighters, hotel and restaurant brands.Certainly the most photographed persona on the island and resident symbol of both sea and sky for almost 60 years, he escapes the Paparazzi in his own personal nest: Cine Manto Mykonos. You can find him on a given afternoon flapping hisfeathers, stretching his beak or just doing general preening in the center of town at the cinema, aka Meletopoulos' Garden.Petros the Pelican
Comments
comments