Mykonos Local Products, Louza of Mykonos, Kopanisti of Mykonos
Louza of Mykonos 
Louza of Mykonos is a very characteristic and delicious snack which competes in terms of preference, for those who have tried the Greek delicacies, with the –also famous– sausages of Mykonos.
This is a traditional type of cooked pork meat which is produced by homegrown veal and includes the whole of the fillet from the back of the animal with the bit of the fat that covers it. This dries up and is "broiled" by the north wind of the beginning of winter and the sun, prepared with a lot of salt, pepper and other spices (thribi). After it has well seasoned that way, louza can be preserved for as much time as we want in the freezer, so that it won't lose its freshness after it has dried.
It is served as a delicacy, cut in thin slices which take the colour of dark rosy red and leave all its tastiness and rich aroma to the mouth. This is the 'delicatessen' of Mykonian gastronomy.
The small louza, which is made from the other back muscle of the hog – "porterhouse" –, is even softer and is called "bouboulo".
* Lonza, in the Italian South. In Cyprus, it is known as "lountza".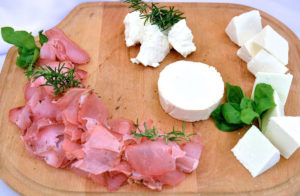 Kopanisti of Mykonos 
Kopanisti of Mykonos is a characteristic, very spicy cheese, which the tasters appreciate for its special peppery tastiness.
It excellently accompanies ouzo and any other strong Greek aperitif, on bread or –in the Mykonian way– on sop barley rusk, together with tomatoes or cucumber. It can also be mixed with butter or some other white cheese to produce a lighter taste, but then the mixture cannot be preserved.
Kopanisti is the result of a controlled and repeated fermentation which is done through the care of the traditional cheesemaker on a base of a homemade mixed cheese (from goat and sheep milk), which is easily preserved after maturing in an earthen or glass jar.
Its making is also known to other Cyclades islands, but it is far different than the kopanisti of Mykonos which is largely considered as a very strong and aromatic one.
About AegeanCuisine
The programme AegeanCuisine is an initiative of the Center for Business & Technological Development of South Aegean and is implemented in close cooperation with the Chambers of Commerce of both the Dodecanese Islands and the Cycladic Islands.
It aims at promoting the unique culinary identity of the Aegean Islands both nationally and internationally
through a series of marketing and business development activities, in order to secure tangible commercial benefits for local businesses – such as farms, fisheries, wineries, food processing businesses, food stores, restaurants, traditional cafes and hotels – that act as ambassadors of the age-old gastronomic heritage of the islands. AegeanCuisine also aims at supporting the local food and beverage industry in becoming more export-oriented and at encouraging new offerings in the field of culinary tourism.Mykonos Local Products, Louza of Mykonos, Kopanisti of Mykonos
Sources:Municipality of Mykonos & greekgastronomyguide.gr
Comments
comments