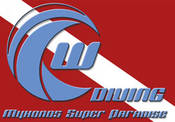 W- Diving on Mykonos
Diving on Mykonos Island means diving into the past and ancient history with each stroke of your fins. Amphorae and pots can be seen, traces of the ancient Greece and the Roman Empire. The Aegean Sea offers diverse underwater sceneries with canyons, rock walls and a incredible visibility of 30 – 40 meters.
But also diving here offers wreck diving: old and new ships have sunk in this area. The "Peloponnesos", in particular which sunk in 1926 onto one of the most beautifully colourful reefs with its plants and abundance of fish, is a rarity. Parts of the ship are found in the shallows and the well preserved tail in deeper waters.
"Anna II" is a cargo ship which sunk in 1995. It can be reach in only 10 minutes by boat "Anna II" offers all the advantages of wreck diving: a reef with a lot of variety in a perfect depth of 20 – 30 meters and a wreck that is also very well preserved.W- Diving on Mykonos
Comments
comments